EXPERIENCE GLENALADALE
DÉCOUVREZ GLENALADALE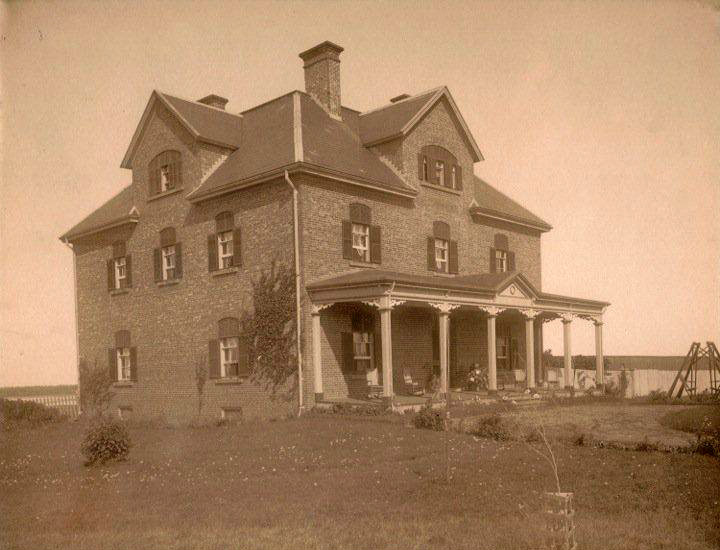 Glenaladale - an ecological and architectural gem with layers and layers of stories!
1884 3-storey brick home
1899 schoolhouse - now a cultural centre
530 acres of mixed woods & farmland
2000' on Tracadie Bay
Archealogical dig
Sculpture Forest featuring work
by Prince Edward Island artists
Picnic tables
Walking trails
Disc golf course

[1] 
Glenaladale Estate was home to former Scottish Laird Captain John MacDonald. Both Captain John and his grandson Sir William C. MacDonald are recognized as Persons of National Historic Significance. Glenaladale was later owned by the MacKinnon family, known for their fox farm and rum running exploits.
Mid-June - 27 October:
Tuesday - Saturday: 9 a.m. - 4:30 p.m.
Sunday: 10:30 a.m. - 3 p.m.
By appointment: 28 October - mid-June
Groups of 12 or more, please reserve in advance.
Fees:
Guided Interpretive House Tours - $15 per person
Children 12 and under – Free
Tour Schedule:
Tuesday - Saturday:  9:30am, 11am, 1:30pm & 3pm
Glenaladale Heritage Trust relies on revenue from site fees and donations for operations and ongoing site preservation and development.
[1] Operated by Glenaladale Disc Golf
Glenaladale - un joyau écologique et architectural avec des couches et des couches d'histoires!
Maison en brique à trois étages de 1884
école de 1899 - maintenant un centre culturel
530 acres de bois mixtes et de terres agricoles
2000 pi sur la baie de Tracadie
Fouille archéologique
Forêt de sculptures mettant en vedette des artistes de l'Île-du-Prince-Édouard
Tables de pique-nique
Sentiers pédestres
Parcours de disc-golf

[1]
Glenaladale Estate abritait l'ancien laird capitaine écossais  John MacDonald. Le capitaine John et son petit-fils Sir William C. MacDonald sont tous deux reconnus comme des personnes d'importance historique nationale. Glenaladale a appartenu plus tard à la famille MacKinnon, connue pour leurs ferme de renards argenté et leurs exploits de "rum running".
Mi juin - 27 octobre:
Mardi - Samedi : 9h - 16h30
Dimanche : 10h30 - 15h00
Sur rendez-vous : 28 octobre - mi-juin
Groupes de 12 personnes ou plus, veuillez réserver à l'avance.
Frais de site*:
Interprétation guidée - 15 $ per personne
Enfants 12 ans et moins – Gratuit
*Glenaladale Heritage Trust s'appuie sur les revenus des frais de site et des dons pour les opérations et la préservation et le développement continus du site.
[1] Exploité par Glenaladale Disc Golf